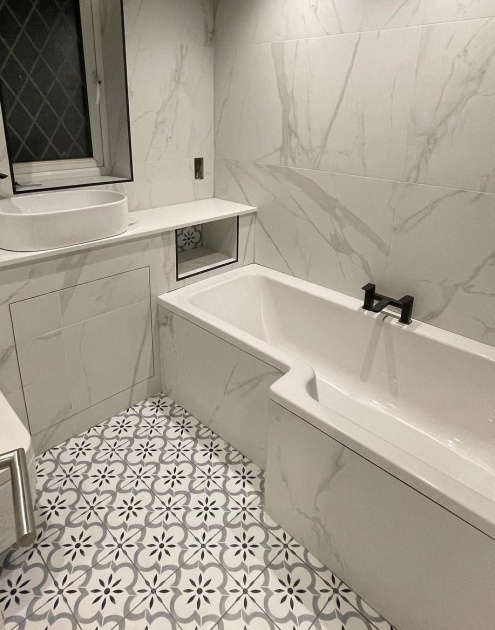 On average, a new bathroom will cost you around £14,000, (between £12,000 and £16,000), depending on the size of the suite. These prices include VAT, as well as the cost to rip out and dispose of your old suite and appliances. Your bathroom fitters will do all the necessary plumbing, tiling, painting and electrics. These prices also include the cost of the materials for your new bathroom suite, with an allowance of roughly £2,200 for materials and £1,100 for bathroom tiles. However, how much you will end up spending on appliances will depend largely on the quality of the materials you choose to buy.
All of these prices can be affected by additional costs due to extra plumbing, heating, and flooring requirements. This is why hiring skilled tradespeople to install your flooring, taps, tiling, or anything else you might need is really important. You might think you're going to save money by doing a bit of DIY, but bathroom installations are complex, and in the long-run, hiring a professional bathroom fitter will save you time and money.
Expect to pay more if you live in London and the South East, where cost of labour can rise by up to 20% more on average.
Luxury Bathrooms
Bespoke
design

service
Whether you're trying to make a statement or looking to update an existing room, we're sure we can bring your ideas alive.
Bathrooms play important role and are integral to every home. So when it comes to replacing them, they must be designed to suit your requirements and lifestyle perfectly.
They should be stylish, practical and adaptable to you and your family's day to day needs.
Green Energy Homes are leading bathroom designers. We specialise in designing and installing bespoke bathrooms, helping to transform tired looking rooms into spaces that are elegant and attractive.
One project manager will organise it all, so you can sit back and relax.
Areas covered include London, Essex, Hertfordshire and Kent.
Get in touch for a free in home consultation and let us design, create and transform those important spaces in your home into something incredible.
Qualified specialists
Bespoke bathrooms
Free in home consultation