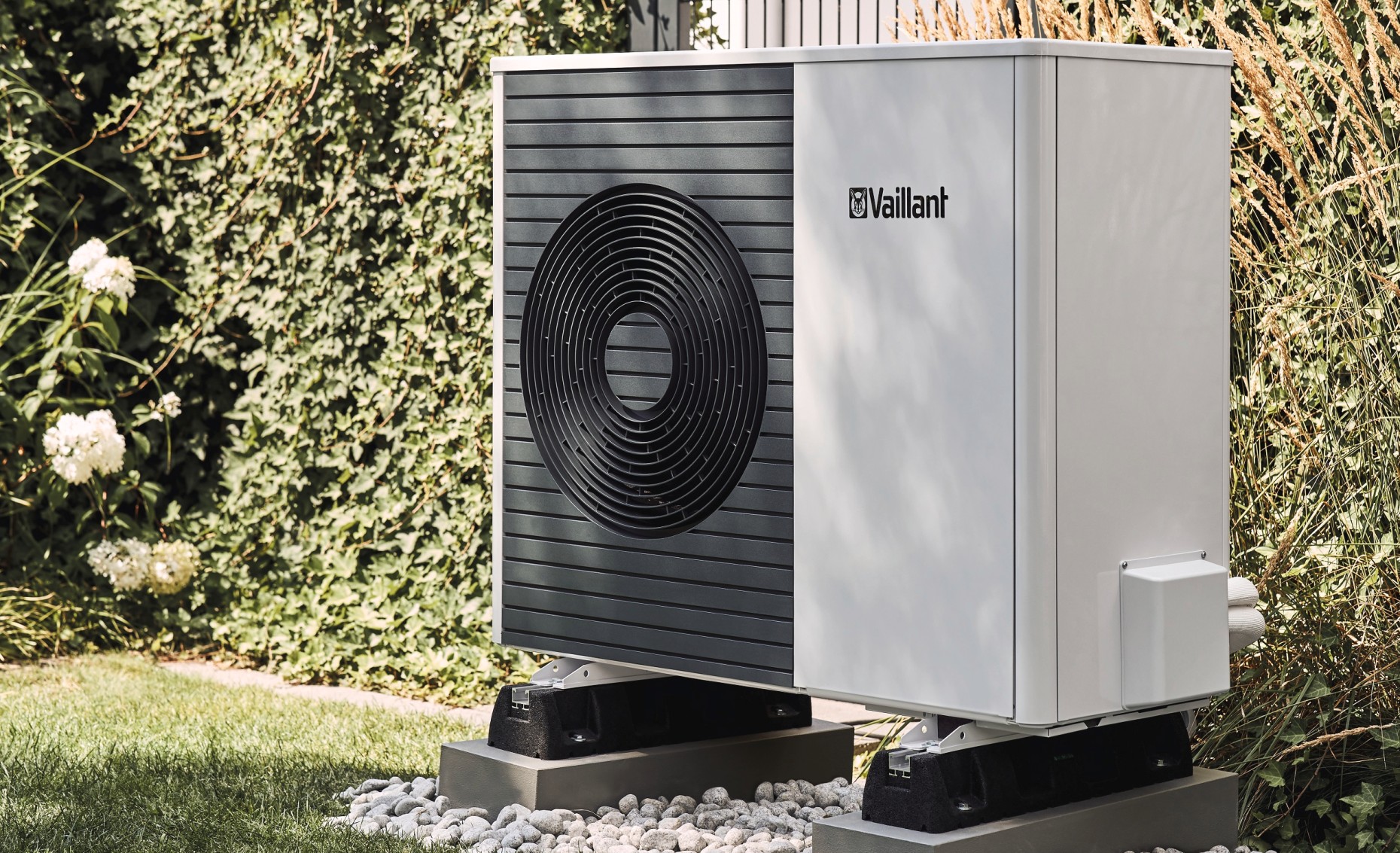 Heat Pumps
Air
source

heat pumps
Air Source Heat Pumps (ashp) are becoming an increasingly popular choice for homeowners who are looking to install renewable energy solutions in their home.
Renewable solutions such as our range of air source heat pumps are one of the most economical, and eco-friendly heating solutions on the market and help homeowners not only to reduce their carbon footprint, but to significantly reduce their heating bills.
Suitable for the heating and hot water needs of houses as well as apartments and flats on the first floor and up.
Suitable for specification in a wide range of properties
Can be integrated into domestic heating systems with minimal disruption
ErP rated A+ to A+++ for hot water and heating efficiency
Government grants are available to help with the cost of installation
Prime Minister announces Boiler Upgrade Scheme grant increase to £7,500
What are air source heat pumps?
Air source heat pumps are an excellent piece of kit and a new type of low-carbon heating in the UK!
They have superior technology inside that extracts the heat from the air outside – even during the winter!!!! – Then uses it to keep things lovely and toasty inside your home, just like a boiler does!
Gas boilers have done us well, but the next generation of heating is here.
Heat from the air, producing green energy power. 4x more efficient. 73% less carbon emission compared to gas or oil
Less energy: Heat pumps use 4 to 5x less energy than the most efficient boilers to generate the same amount of usaable heat.
Less carbon: That efficiency means you'll instantly slash your heat carbon footprint by 73%. Plus, they run on electricity, which gets greener every year, plus if you have a solar PV installation the cost saving can be huge!
Less maintenance: A heat pump can last 25 years – over twice as long as a boiler.

Green Energy Homes heat pumps start from £5,000 for a standard installation (including the government grant). For larger, more complex homes, they may cost more.
Air source heat pumps
Cheaper and easier to install than ground source heat pumps
Slightly higher running costs
The heat pump unit is quite small
Can work in temperatures as low as -25°C
Can require planning permission on some occasions.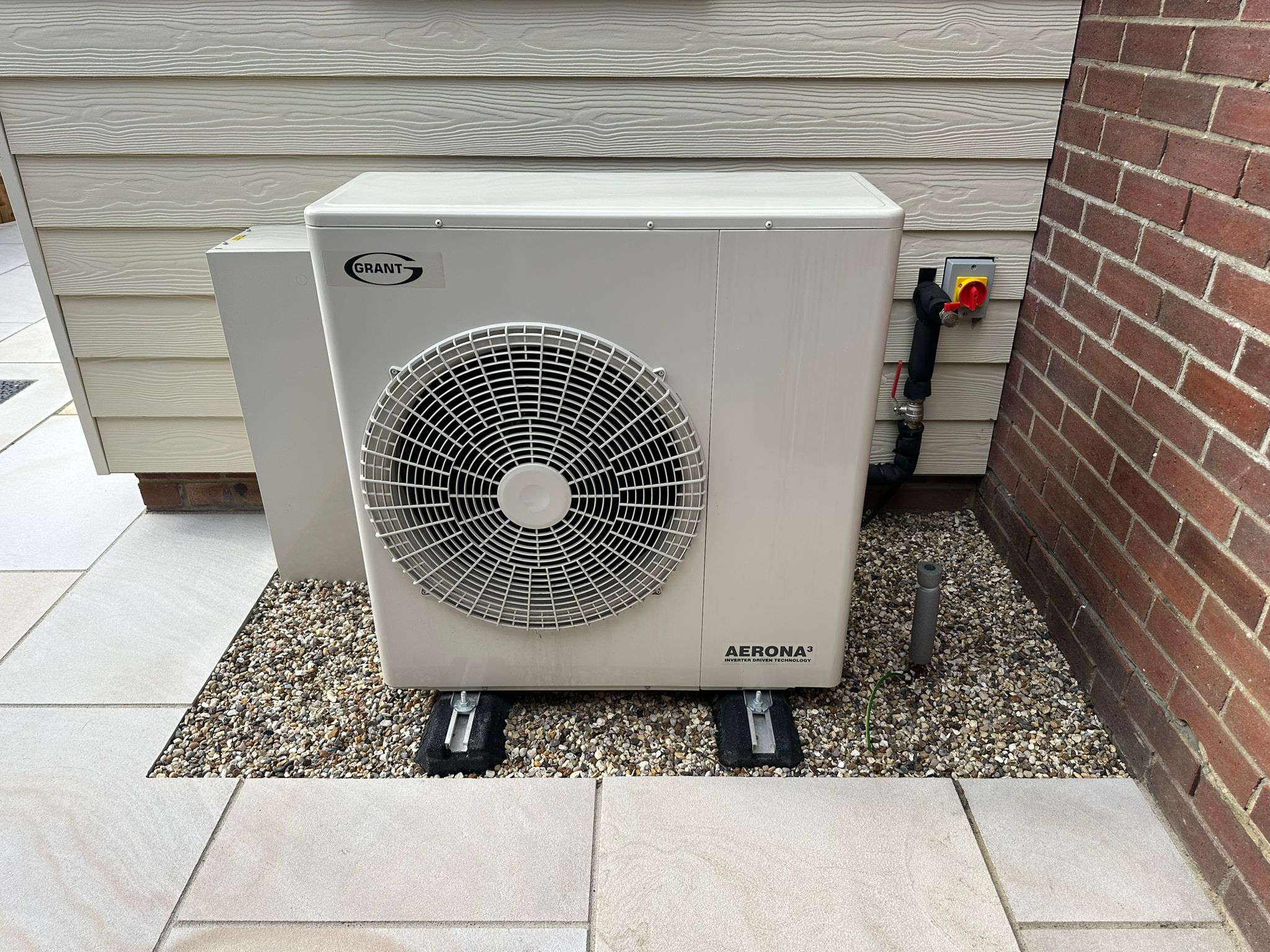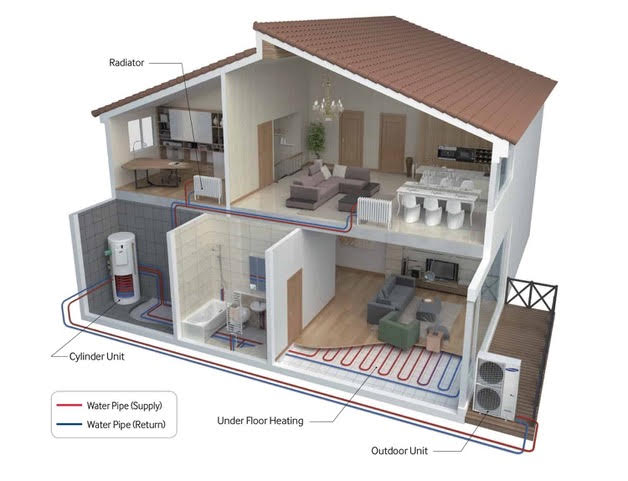 Heat pumps can save you a lot of money in the long run. They provide heating, hot water and can be coupled up with other technologies such as solar thermal (Sun energy to heat hot water) and solar PV systems (Sun energy to provide electricity) meaning free electrical energy – free heating, free hot water.
These systems are here to stay and the way forward to become carbon neutral and stop burning fossil fuels.
How to get a heat pump, the 5 steps:
1) Get a free estimate from a qualified engineer
2) Full heat loss survey carried out by qualified heat assessor and BUS grant applied for
3) Book in for heat pump installation to start, carried out by fully A level trained installers
4) Full commissioning, testing, handover and BUS grant claimed
5) Completion of works
Heat pumps are the low-carbon future of home heating. And we have been installing them in customers homes across London, Hertforshire, Essex & Kent.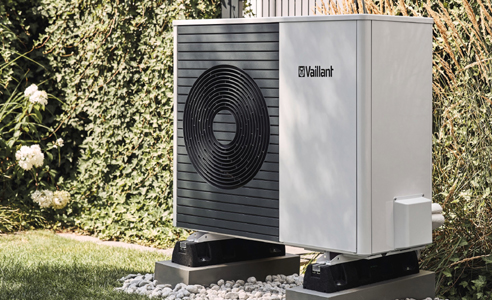 Boiler Installations as well as Air Source and Ground Source Heat Pumps are our primary tasks at Green Energy Homes.
Heatpumps are becoming more cost effective and cheaper to run.
We pride ourselves on the high standards of workmanship we achieve and we give honest, trustworthy advice to all our customers.
Our estimates & quotations are FREE of charge.
We never push for a sale we just provide you with an honest estimate and leave the decision down to you to make, in your own time!
All of our boilers come with up to 15 years parts and labour warranty for peace of mind.
All our installations are guaranteed for 12 months.
Ready to go greener with a Heat Pump?
Heat pumps are the low-carbon future of home heating. And we have been installing them in customers homes across London, Hertforshire, Essex & Kent.